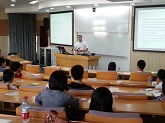 On November 9, Open day for SAIF MF National Exam was held successfully. This event attracted many students and parents who are very interested in MF program. In the event, the director of MF Professor Charles Chang introduced the trend of finance industry in China and the prospect of choosing finance as career.
11月9日,SAIF金融硕士统考项目开放日活动顺利进行,本次活动吸引了许多对金融硕士项目有极大兴趣的统考同学及家长。金融硕士项目总监张纯信教授介绍了当代中国金融的发展趋势以及选择金融行业的前景。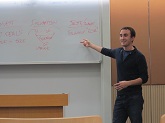 Mr. Benjamin Rudick was back at SAIF on November 23rd and gave an investment workshop for MF 2013 students. The aim of the workshop was to help students get the basic idea of real investment procedure in the context of social investing. He encouraged students to gain more experience in real-world venture capitals.
11月23日,Benjamin先生再次回到上海高级金融学院,并为2013级金融硕士班的同学们组织了一场模拟投资活动。该活动的目的是帮助同学们了解真实"社会投资"项目的实际决策过程。他鼓励对分风险投资感兴趣的同学们多积累实践经验并欢迎大家到创思实习。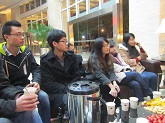 The coffee hour for November 28th invited Professor Wang Tan and Professor Chang Yancheng. Despite the cold weather of early winter, the two professors were warmly welcomed by SAIF students. Coffee hour provides a precious opportunity for direct communication between students and faculty.
11月28日的Coffee Hour活动邀请到了王坦教授和张晏诚教授。尽管已是初冬时节,同学们参与活动的热情不减,与两位教授进行了深入的交流。作为每月学生活动的保留节目,Coffee Hour活动为SAIF的学生与教授提供了一个直接交流的宝贵机会。

On the 30th November, the MF13 and the MF12 students gathered together, having dinner to celebrate the Thanksgiving Day.
11月30日晚,上海高级金融学院金融硕士项目12及13级的学生相聚在定西路上的齐海鱼圣,边吃热气腾腾的火锅并欢庆感恩节的到来。
本次活动邀请了60余名金融硕士的在读学生,大家不仅分享了入学来的点滴心情,更由班委组成了"庆生小组"为即将生日的张纯信教授举办了生日庆祝会。看着大家端上的蛋糕,在同学们的欢呼和掌声中,教授幸福地吹熄了蜡烛。同时,爱护同学,尊重师长,也正是呼应了感恩节的主题。
在其乐融融的气氛下,同学们结束了一天的快乐分享。